How To
The best ways to Make one of the most Delicious Carbonated Cold Brew
By
|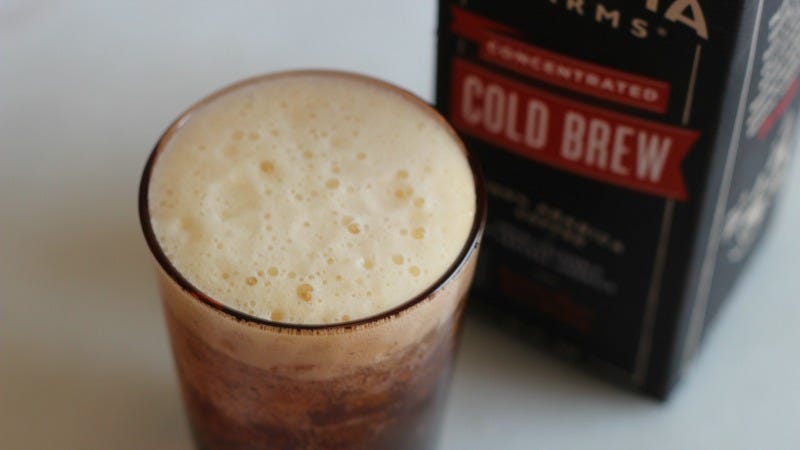 < img src =https://i.kinja-img.com/gawker-media/image/upload/s--n0PUjfjn--/c_scale,fl_progressive,q_80,w_800/pai1jwfnt4qom39u7cfz.jpg data-sizes=automobile data-chomp-id= pai1jwfnt4qom39u7cfz data-format=jpg > Pictures by Claire Lower Since honestly, coconut La Croix? That flavor of seltzer is La Croix's worst– it tastes like watered down, carbonated sunscreen, and I do not know why anybody would want to do that to cold brew. I'm likewise just not a huge fan of putting co2 in my coffee.( Cold brew on nitro is a totally different story, nevertheless; the bubbles are great and small, and offer the coffee a smooth, velvety mouthfeel.)Plus, I have actually tried some expensive coffee soda things, and found that they mainly just trigger oral confusion.(See exhibit A listed below, which was the most difficult thing I've ever put in my mouth.)I was told not to"knock it up until I attempted it,"so I attempted it, to see it blending delicious cold brew coffee with the worst La Croix flavor in existence would in some way result in something I would desire to consume all summer season long. I blended roughly equal parts of cold brew concentrate and satan's seltzer, took a sip, and was … underwhelmed. It wasn't precisely bad, however the combination of
big bubbles and coconut essence silenced the enjoyable aspect the coffee's taste in a significant method, and made it taste rather sharp, improving the bitterness. Being totally knowledgeable about my bias towards the can of tropical bubbly water, I decided to attempt another taste, and grabbed a Polar or the black cherry
persuasion. This wound up being much worse, with the cherry essence and coffee signing up with forces to develop a flavor that was similar to cough syrup.Basically, everything returns to mouthfeel. Where nitro smooths out coffee's cruelty, carbonation boosts it, making it taste thin and sharp. Luckily however, there is an easy repair: you simply need to
add something sweet and syrupy.First, I included a tablespoon of basic syrup to my initial coconut cold brew circumstance. This assisted it tremendously, especially in regards to mouthfeel, however it still tasted of coconut La Croix, which is an issue for me, due to the fact that I do not
like that taste in my mouth.(If, nevertheless, you are a fan of this particular seltzer flavor, make this and enjoy your life.)Next, I chose to try it out with a carbonated beverage that came pre-syruped: classic Coca-Cola. This, my friends, hit the sweet area of bubbly, sweet, and smooth. The sweet syrupy-ness of the cola kept the bubbles from harshing out the cold
brew, while canceling any bitterness. Similarly, the coffee made the cola more drinkable, taming the cloying factor. I consumed the whole glass and– since I had taken a huge ol' dose of pseudoephedrine previously– I'm pleased to report that I can now see sound.This got me believing about what other sweet syrups I might contribute to cold brew. At the prompting of one fine editor, I chose to attempt my hand at a coffee egg cream.
< source data-srcset =https://i.kinja-img.com/gawker-media/image/upload/s--Q02f1F7a--/c_scale,fl_progressive,q_80,w_800/iaue2bvrux4gnb0uvce8.jpg media=-- xlarge >< img src= & http://skillet.lifehacker.com data-sizes =auto data-chomp-id=iaue2bvrux4gnb0uvce8 data-format =jpg > I integrated 1/4 cup of cold brew concentrate with 1/2 a cup of half & half in a cooled glass, then added four tablespoons of chocolate syrup and carefully topped the entire thing with soda. This was as tasty as you would suspect, but the coffee didn't add a whole lot besides a tinge of flavor and a good little bit of caffeine (bear in mind I'm utilizing cold brew concentrate, which loads a wallop). To bring the spotlight back to our cold brew, I tried a variation of the water fountain classic, leaving out the dairy totally and mixing two tablespoons of chocolate syrup with equivalent parts cold brew concentrate and syrup.
< source data-srcset = https://i.kinja-img.com/gawker-media/image/upload/s--OWvArQVO--/c_scale,fl_progressive,q_80,w_800/zcfgiorqw9olmd8ykjye.png media =-- xlarge > The resulting drink was pure chocolaty, caffeinated delight, with no of the heaviness that dairy can bring. Bear in mind however, you require a good bit of syrup for this to work. I tried it with simply a single tablespoon of the chocolate, and discovered it to be rather displeasing, as there wasn't adequate sugar to smooth things out.So while yes, you can blend carbonation and cold brew, you finest include a syrupy add-in, even if it is just a little basic. Unless you like the smoother flavors of your coffee muted and the bitter ones enhanced, that is. It takes all kinds, after all, and I'm not here to judge.