Labour leader in Lords says Willsman should 'consider his position' on NEC
But Smith told Radio 5 Live she did not think that was enough and that Willsman should "consider his position".
I think sometimes people say an apology isn't always enough. And certainly, Pete Willsman, who I've known for many years, should not be allowed to make such awful and appalling comments … I think the tone of which he spoke, and what he said in that, isn't acceptable.

Now he's made an apology. I think for most people, I don't think it goes far enough …

I think sometimes things almost can't be unsaid. There are things that happen many years ago, and people look back on their lives and think, actually that's not the person I am now, I wouldn't say that now, I understand better now. But this was very recent, and I think certainly it damages him in standing for the NEC. But I think he ought to consider his position.
Antisemitism row has 'shaken us to the core', says McDonnell
John McDonnell, the shadow chancellor, has said in a clip for broadcasters that the antisemitism row has "shaken" Labour "to the core". But the party will resolve it, he said.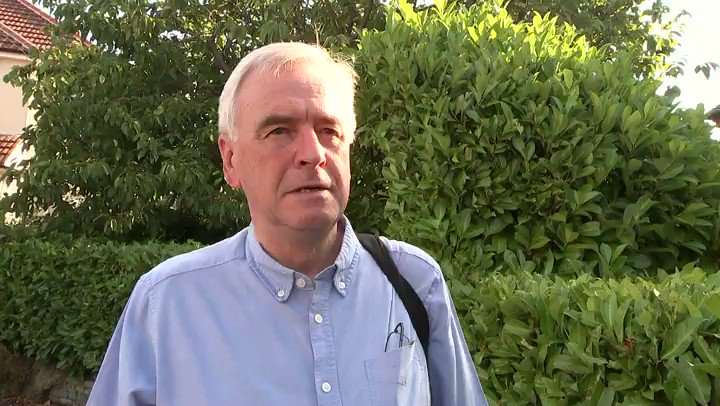 When he was speaking to reporters after his meeting with his Austrian counterpart Karin Kneissl, Jeremy Hunt, the foreign secretary, also dismissed claims that British government warnings about the consequences of a no deal Brexit amounted to scaremongering. According to the Reuters report, he said:
This is not project fear, this is project reality. We have to make a decision on Britain's future relationship with the EU by the end of this year and we have to be very honest with ourselves about the choices that we face.
Labour may include plans for universal basic income in next manifesto, says McDonnell
John McDonnell, the shadow chancellor, has said that Labour is considering including plans for a universal basic income in its next manifesto. In an interview with the Independent he said:
It's one of those things I think we can get into the next manifesto and see, it's worth a try. There have been pilots elsewhere. I'm trying to wait for the feedback …

If you look at what's happened elsewhere in other countries – and I think Scotland is looking at it as well – they are doing it on a small geographical basis in particular towns.

It will be thrown into the discussions about the next manifesto – that's one of the ideas that a lot of people are pressing for.
A universal basic income would involve all citizens receiving a payment from the state, replacing or supplementing out-of-work benefits. It is seen as a form of welfare utopianism, potentially simplifying and improving benefits, though probably at huge cost. Those in favour include the Green party and, tentatively, the SNP, although many experts, like my Observer colleague Sonia Sodha (see here) are strongly opposed.
'At the moment we are heading for a no deal by accident,' says Jeremy Hunt
Jeremy Hunt, the foreign secretary, has been intensifying his warnings about the prospect of the UK leaving the EU without a deal. Last week, when he went to Berlin, he said there was "a risk of a no deal by accident". He said much the same yesterday, as he went to Paris and said And today, after meeting his Austrian counterpart Karin Kneissl in Vienna, he said in a tweet there was "a real risk of a messy divorce which would be a geostrategic mistake".
But, according to a report from the AFP news agency, Hunt also told reporters after the meeting:
At the moment we are heading for no deal by accident.
That implies a level of probability rather higher than "real risk".
Hunt also defended the British government's decision to appeal over the heads of the European commission to EU leaders, in the hope of getting a better Brexit offer. He said that although negotiating with the commission was "the correct and legal thing to do", the government thought that "in the end the outcome of those negotiations are a choice for European countries from whom the commission gets its mandate".
Kneissl was dismissive of the idea of trying to sideline the commission when she gave an interview to the Today programme this morning (see and after the meeting with Hunt she insisted there was "a high degree of cohesion" amongst EU member states about how to deal with the UK.
The AFP report also includes this snippet in its report.
Asked whether there was any possibility of an extension to the UK's exit date of March 29 next year, or even to the exit talks due to be concluded by October, Hunt said he thought this was "highly unlikely".

"I think people would worry if there was any delay in the exit date that it was some kind of project to avoid leaving the EU," he said.
If Hunt was saying that the prospect of the UK not leaving the EU on March 29 next year was "highly unlikely", that would be significant because it would imply Hunt thinks there is a remote chance the UK won't leave by then and that article 50 will be extended. Downing Street has absolutely ruled this out. But the AFP report suggests the question was ambiguous, and that Hunt may have been saying the chance of the deal not being concluded by October is highly unlikely.
UPDATE: I've checked with the Foreign Office and their transcript, and it is clear that when Hunt said "highly unlikely", he was referring to the prospect of the Brexit talks going beyond the assumed October/November deadline, not to the prospect of article 50 being extended.
Sky News has been using Freedom of Information requests to get hold of Brexit impact studies produced by councils. As reports, some of them are not encouraging.
Nearly 30 councils have responded to a freedom of information request for their Brexit plans, with some expressing mounting incredulity and exasperation at having to plan to deliver local public services against a backdrop of highly uncertain Brexit negotiations with Europe and within government.

They say they are having to work out the implications for social care, border controls, the availability of food and medicines and even the fear of "social unrest."
Sky's Zach Brown has tweeted some of the highlights.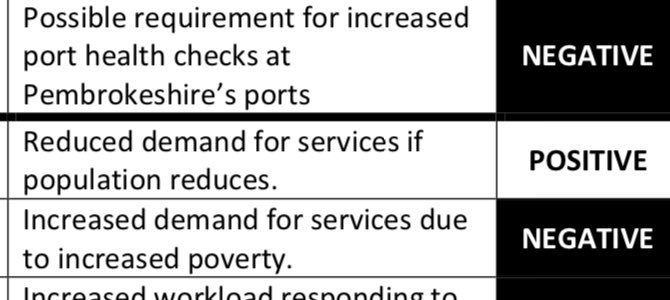 A source close to the Home Office explained that the Border Force would likely have little other choice than to carry on allowing EU citizens freely into the UK as it would not have the staffing capacity, resources, or infrastructure to implement a new registration scheme in a no-deal scenario.

It currently takes an average of approximately 45 seconds to check an EEA citizens' passport, compared to an average of 4 minutes for an non-EEA arrival.

If every new arrival was subject to 4-minute checks, there could be days-long queues at some British airports without a dramatic increase in the number of trained immigration officers.
This is from the Labour MP Stephen Kinnock on what he thinks Labour should do next to address the antisemitism problem facing the party.
Austrian foreign minister plays down Hunt's warnings about no deal Brexit happening by accident
Karin Kneissl, the Austrian foreign minister who is meeting Jeremy Hunt, the foreign secretary, in Vienna, was on the Today programme this morning. Since his appointment Hunt has been regularly warning about the risk of a no deal Brexit happening by accident. But Kneissl played down the prospect of this happening. When asked about this, she said:
From the commission's side, there is a clear-cut schedule, so an accident is not really something that people are working for. Everyone is working along a schedule …

If from both sides more effort is put into the negotiations, things can be handled in a transparent way and nobody should be afraid of a dirty Brexit, a cliff-edge or whatever. It's really a matter of sticking to the schedule.
She also did not seem too impressed by , and force Brussels to offer a compromise deal. When asked about this, she pointed out that Barnier was following guidelines and a mandate agreed by the European council, the body made up of EU leaders.
Boris Johnson's resignation puts him top in survey of members for next Tory leader
Boris Johnson is back in the running to be the next Conservative leader, a ConservativeHome survey of party members suggests. ConservativeHome regularly asks Tory members who they want to see as the next leader (and the results are taken seriously, because in the past these surveys have been a reasonably good guide as to the outcome of internal Conservative party elections) but when Johnson was foreign secretary, he never did particularly well. As Paul Goodman explains in the ConservativeHome write-up, Johnson's resignation over the Chequers plan (see has transformed his chances.
A month ago, before the Chequers cabinet meeting and the Brexit white paper, he was foreign secretary – tied to a policy which he clearly didn't believe in, and having failed to quit over Heathrow expansion. He was fifth in the survey, languishing on eight per cent.

Now, his rating has almost quadrupled, and he is top of the poll. He last led as long ago as March 2016 – in the aftermath of his decision to come out for Leave. Again, his total soared.

Our reading is that most panel members believe that David Davis is now too old to lead the Party, even as a stopgap, and that Johnson, with his Daily Telegraph column, his national projection and reach, and his publicity-mongering over the best part of 30 years, is best placed to make the case for an authentic Brexit to the voters.
Until recently the conventional wisdom at Westminster has been that, although Johnson would be popular with Conservative party members, his chances of making it onto the shortlist of two that would be put to the membership would be slim because MPs have to whittle down the candidates first and many of them consider him unprincipled and untrustworthy. But winning elections comes first and it is not hard to see how MPs might swallow their qualms about Johnson in the light of evidence showing he would win them the most votes. The Sunday Times (paywall) recently published a YouGov poll showing exactly this.
Theresa May's proposals for the UK's relationship with the EU after Brexit – set out in the white paper but known as the Chequers plan, because it was finalised at an all-day cabinet meeting at Chequers – are a lot "softer" than people expected when she first became prime minister. But, according to a thinktank report out today, the economy would still suffer quite badly. The National Institute of Economic and Social Research has published its latest economic review and it says Chequers would cost the economy the equivalent of £500 per person in lost output. And, of course, a no deal Brexit would be even worse.
Here's an extract from its news release.
Our central forecast under a 'soft Brexit' scenario is that the economy will grow at a pace that is consistent with its potential. This translates to annual GDP growth of 1.4 per cent this year and 1.7 per cent next year, which is broadly unchanged from our previous forecast …

As before, the central forecast has been conditioned on a 'soft' Brexit assumption where the UK achieves close to full access to the EU market for goods and services. If instead of this soft Brexit scenario we assume that the government achieves the somewhat more restrictive white paper proposals, the output loss will amount to £500 per person per year over time compared with the soft Brexit scenario. The loss would be around £800 under a 'no deal' Brexit. These estimates do not include the likely impact on productivity which could, on some estimates, double the size of the losses.
Output is a measure of what the economy produces. An output loss is not the same as a loss to household income. But it is a way of saying the country would be getting poorer, and that does ultimately impact on family finances.
My colleague Larry Elliott has written up the report overnight here.
Labour party is still embroiled in a row about antisemitism. In the latest development, Jeremy Corbyn has apologised for speaking at an event where the actions of Israel in Gaza were compared to the Nazis. My colleague Sarah Marsh has the details here.
here.
I try to monitor the comments BTL but normally I find it impossible to read them all. If you have a direct question, do include "Andrew" in it somewhere and I'm more likely to find it. I do try to answer direct questions, although sometimes I miss them or don't have time.
If you want to attract my attention quickly, it is probably better to use Twitter.
Source
https://www.theguardian.com/politics/blog/live/2018/aug/01/chequers-brexit-plan-would-cost-economy-equivalent-of-500-per-head-says-thinktank-politics-live